Editorsguild_il Coupon Codes
List of the latest retail promotional codes that user @editorsguild_il has tweeted about on Twitter.
Promotion Codes Tweeted by EditorsGuild_IL
Amsterdam Printing Coupons
There are discount codes for the Save 5 Euros off price. Use code thanks to
Coupon Code: smokevip
9 months ago via @editorsguild_il Retweet Comment Share
---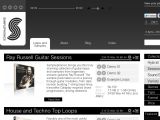 Store.samplephonics.com Coupons
Exclusive sale for FB and Tw fans! To claim 50% off 'World Percussion Soundtrack', use code when you check out.
Coupon Code: shhh
9 months ago via @djmarcatkins Retweet Comment Share
---