Janetvanderhoof Coupon Codes
List of the latest retail promotional codes that user @janetvanderhoof has tweeted about on Twitter.
Promotion Codes Tweeted by JanetVanderhoof
Artistwebsites.com Coupons
Holiday discount from Powers Fine Art. Thru Dec 31st, 2012 - get 15% off prints in my print shop. Use code -- Likely Expired
Coupon Code: YTRUFP
5 months ago via @janetvanderhoof Retweet Comment Share
---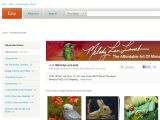 Melodylealamb Coupons
(via Etsy)
is offering 35% OFF all nov 15-18th.
Coupon Code: ARTFAN
1 year ago via @caseystudio Retweet Comment Share
---
Cafepress.ca Coupons
Take 18% off on tax day :O Use code on any of my products :O
Coupon Code: 18REFUND
2 years ago via @janetvanderhoof Retweet Comment Share
---