Karenwilson Coupon Codes
List of the latest retail promotional codes that user @karenwilson has tweeted about on Twitter.
Promotion Codes Tweeted by KarenWilson
Sassandbide.com Coupons
starts now! enter code word to receive 10% off everything...enjoy!
Coupon Code: VOGUE
5 months ago via @sonia_fantini Retweet Comment Share
---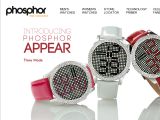 Phosphorwatches.com Coupons
Now through 2/14, $30 off any watch priced $130+. Use code checkout Questions? Let us know! -- Likely Expired
Coupon Code: valentines30
1 year ago via @karenwilson Retweet Comment Share
---
Benefitcosmetics.co.uk Vouchers
MON & TUES: 15% off your order for 2 days! Enter code at checkout. Ends on Tues, 15th Nov 2011 at 23:59. only.
Coupon Code: 15OFF204
1 year ago via @clairefryatt Retweet Comment Share
---