Mfm_leeds Coupon Codes
List of the latest retail promotional codes that user @mfm_leeds has tweeted about on Twitter.
Promotion Codes Tweeted by MFM_Leeds
Kanshijewellery.co.uk Vouchers
To celebrate my Special Day with free postage just use code , takes off at the end, happy shopping ...
Coupon Code: kh1001
1 month ago via @dellahawkins3 Retweet Comment Share
---
Vaxsale.co.uk Vouchers
We're giving up to 80% off with code . & follow to win a Rapide Ultra 2 worth £299!
Coupon Code: vaxsale12
10 months ago via @staceinspire Retweet Comment Share
---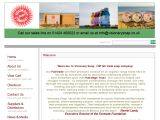 Visionary Soap Company Vouchers
10% off every order with code . Valid until 31 Dec, 2011 and good for unlimited use! Visit and please RT!
Coupon Code: VSC2011
1 year ago via @lavesq Retweet Comment Share
---