Pdxfighter Coupon Codes
List of the latest retail promotional codes that user @pdxfighter has tweeted about on Twitter.
Promotion Codes Tweeted by PDXFighter
Mmaweekly.com Coupons
Remember on Black Friday -- 50% OFF EVERYTHING INCLUDING SALE ITEMS -- use code at checkout. FRIDAY ONLY!
Coupon Code: BLACK
2 years ago via @joedrowns Retweet Comment Share
---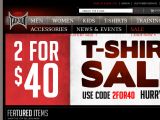 Tapout Worldwide Coupons
Use code for 50% off anything in the Mask Tribute Collection here: RIP MASK!
Coupon Code: B3LI3VE
3 years ago via @bkbdby Retweet Comment Share
---
Seenon.com Coupons
Store Friends & Family 20% Discount, ends Wed at midnight. Great time to get gifts. CODE
Coupon Code: UFCFRIEND
3 years ago via @jimi98 Retweet Comment Share
---