Pattypooh11 Coupon Codes
List of the latest retail promotional codes that user @pattypooh11 has tweeted about on Twitter.
Promotion Codes Tweeted by Pattypooh11
Nomorerack.co Coupons
Free $10 credit for NoMoreRack!! Enter code when registering to get your credit
Coupon Code: P1070
1 year ago via @pattypooh11 Retweet Comment Share
---
Nomorerack.com Coupons
Love this site! 8 deals a day similar to other group-buy sites. Use promo code and get $10 free to use.
Coupon Code: P1070
1 year ago via @gracebonilla1 Retweet Comments (3) Share
---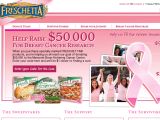 Proudtosupportpink.com Coupons
by visiting Enter in the code and we will donate $1 to breast cancer research.
Coupon Code: FRESCH11
1 year ago via @mrshrainey Retweet Comment Share
---