Squidgydesigns Coupon Codes
List of the latest retail promotional codes that user @squidgydesigns has tweeted about on Twitter.
Promotion Codes Tweeted by SquidgyDesigns
Totally4.com Coupons
This easter weekend you can get 30% off everything on our website with coupon code - just enter at the...
Coupon Code: EASTER30
1 year ago via @squidgydesigns Retweet Comment Share
---
Totally4.com Coupons
PRODUCT OF THE DAY: Disposable Toilet Seat Covers only 95p! Plus free P&P with Coupon Code.
Coupon Code: SHIP4FREE
1 year ago via @squidgydesigns Retweet Comment Share
---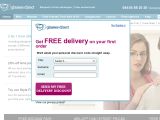 Glassesdirect.co.uk Vouchers
Just got 2 pairs of glasses from for £70.35! Bargain! Use code for 40% off before midnight friday! + BOGOF
Coupon Code: TAKE40
1 year ago via @squidgydesigns Retweet Comment Share
---