Tweetingautism Coupon Codes
List of the latest retail promotional codes that user @tweetingautism has tweeted about on Twitter.
Promotion Codes Tweeted by TweetingAutism
Goodnessdirect.co.uk Vouchers
For money off with use voucher code for £10 off when you spend over £35 valid until end Feb 2013
Coupon Code: 32234GRM
5 months ago via @coeliacukwessex Retweet Comment Share
---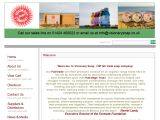 Visionary Soap Company Vouchers
10% off every order with code . Valid until 31 Dec, 2011 and good for unlimited use! Visit and please RT!
Coupon Code: VSC2011
1 year ago via @lavesq Retweet Comment Share
---
Thethomascentre.co.uk Vouchers
10% discount code on all late availability holidays! please see for dates
Coupon Code: Jack
2 years ago via @teresaatkins Retweet Comment Share
---