Brianblank Coupon Codes
List of the latest retail promotional codes that user @brianblank has tweeted about on Twitter.
Promotion Codes Tweeted by brianblank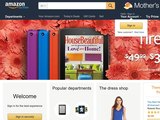 Amazon.com Coupons
If your still looking for a battery, has a $10 coupon valid til 5/13 on the IMP1000 code -- Likely Expired
Coupon Code: DIMP1000
1 year ago via @brianblank Retweet Comment Share
---
Drobostore.com Coupons
Drobo S reg $799 for only $399! TODAY ONLY. Use code 'til 12AM PST TONIGHT! GO!
Coupon Code: TWIPDROBOS
1 year ago via @igainsti Retweet Comment Share
---
Road Id Coupons
Need a gift for the active person in your life? A is it. Use my promo code "" for 10% off.
Coupon Code: pcLL09
3 years ago via @timbrown_ Retweet Comment Share
---