Figgygee Coupon Codes
List of the latest retail promotional codes that user @figgygee has tweeted about on Twitter.
Promotion Codes Tweeted by figgygee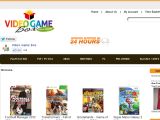 Videogamebox.co.uk Vouchers
10% OFF EVERYTHING Just enter Coupon Code; at checkout to receive. Cheap Games, Consoles, Gifts etc
Coupon Code: 10VIDEOGAMEBOX
3 months ago via @dm0rley Retweet Comment Share
---
Vaxsale.co.uk Vouchers
We're giving up to 80% off with code . & follow to win a Rapide Ultra 2 worth £299!
Coupon Code: vaxsale12
10 months ago via @staceinspire Retweet Comment Share
---