Katewjewellery Coupon Codes
List of the latest retail promotional codes that user @katewjewellery has tweeted about on Twitter.
Promotion Codes Tweeted by katewjewellery
Catswhiskerscakedesign.co.uk Vouchers
Don't forget to enter the code at the checkout before midnight on Monday 20 August & we'll give you 10% off. Happy shopping!
Coupon Code: 10SALE
9 months ago via @remadeshop Retweet Comment Share
---
Teeandtoast.com Coupons
Get 10% off your order in our shop over at not on the highstreet. enter at checkout before midnight Mon...
Coupon Code: 10SALE
9 months ago via @katewjewellery Retweet Comment Share
---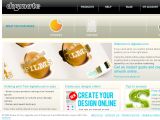 Diginate.com Coupons
Your order has been dispatched! Please the code to give your followers a 10% discount
Coupon Code: Q6V2WG
1 month ago via @scurri Retweet Comment Share
---