Mdelamater Coupon Codes
List of the latest retail promotional codes that user @mdelamater has tweeted about on Twitter.
Promotion Codes Tweeted by mdelamater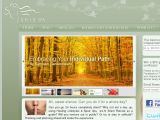 Joy Of Spa Coupons
10% off Joy of Spa gift cards. Use promo code for a great deal 3300+ spas nationwide!
Coupon Code: SHAREANDTELL
2 years ago via @asmokee1 Retweet Comment Share
---
Chocolate.com Coupons
gives 10% off Promo Code "" saves on Fine Chocolate for Fine Occasions
Coupon Code: ST10
2 years ago via @dolls123 Retweet Comment Share
---
Costumecauldron.com Coupons
Receive $5 OFF your complete order of $50 or more using coupon code at Costume Cauldron.
Coupon Code: FIVEBUCKS
2 years ago via @inky08 Retweet Comment Share
---