Ndm0227 Coupon Codes
List of the latest retail promotional codes that user @ndm0227 has tweeted about on Twitter.
Promotion Codes Tweeted by ndm0227
Laughstub.com Coupons
HEY LA!!!! Ever wanted to see me do a full set? Here's your chance and the tix are only $13 with coupon code
Coupon Code: THAI
1 year ago via @makeupbysher Retweet Comment Share
---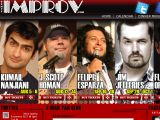 Tempeimprov.com Coupons
Free tickets to Thursday Show at Tempe Improv with promo code , enter online at or...
Coupon Code: HAHA
1 year ago via @thefabulousone Retweet Comment Share
---