Tdoggett Coupon Codes
List of the latest retail promotional codes that user @tdoggett has tweeted about on Twitter.
Promotion Codes Tweeted by tdoggett
Lookfabuloustour.com Coupons
Learn fashion styles & techniques with the amazing Act fast & use code for $39 tickets. Sweet!
Coupon Code: LFTLA39
2 months ago via @tdoggett Retweet Comment Share
---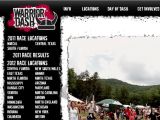 Warrior Dash Coupons
Now Im registered for the Warrior Dash Illinois - 06-16-2012. Coupon code for $5.00 off.
Coupon Code: WDActive
1 year ago via @tdoggett Retweet Comments (5) Share
---